My five favorite fan artworks of 2020
Boy, it's been quite a year!
At the end of a year, people do all kinds of reviews. I usually reflect on the art that I did, hoping to see some growth. 
But this time I want to end the year on a positive note and select my favorite fan artworks that I made in 2020. The art that made me happy and - hopefully - made some other people smile too. So here they are (in no particular order):
1. Soldier boy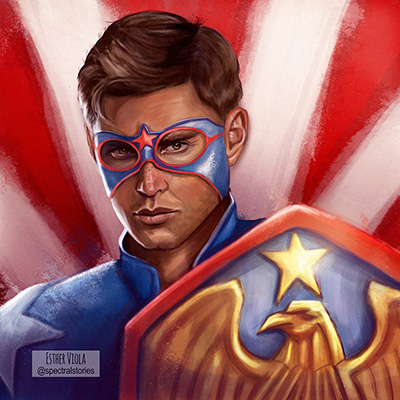 As you will probably notice further down this blog post, I'm a big fan of the tv show The Boys. I am also a big Supernatural fan. So when I heard Jensen Ackles ('Dean Winchester' on Supernatural) was going to be 'Soldier Boy' on The Boys' next season, I just had to paint him. His costume is still a secret, so I made a combination of elements from  the The Boys comic book series version of Soldier Boy. 
It was the very first time my work was used for an article on sites like Screenrant and IMDB (and I was also properly credited, I was so happy about that too, thank you, writer!!). I got so many nice reactions on it (and some not so nice ones, but let's not focus on that part) and I had the biggest smile on my face for a week. 
2. Mazikeen
I was supposed to go to a Lucifer convention this year, but due to Covid-19 all conventions this year were postponed. Oh well, hopefully next year will be better!
The reason why this painting of Mazikeen ( 'Maze' from Lucifer) is one of my favorites, is because it was my first big oil painting EVER. I prefer to paint digitally and real paint sometimes scares me. Even though I made mistakes, I enjoyed trying out a new medium. I hope to do some more oil and acrylic paintings in 2021. 
3. Dennis Caleb McCoy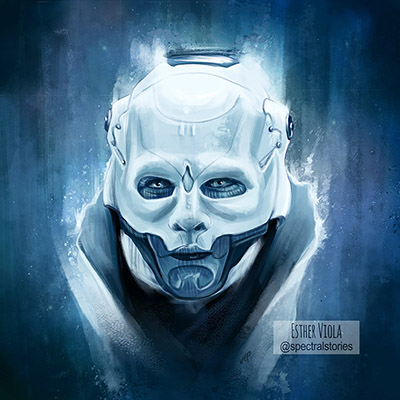 In this dramatic year, there was one feel-good movie that  brought me some comfort: Bill and Ted Face the Music (or: Bill and Ted 3). 
I absolutely adored the first two Bill and Ted movies when I was young. I was so afraid that the new movie wouldn't be as good, but I loved it! 
Of course I had to paint Bill and Ted fan art. I painted several actually. This one is my favorite.
What made it extra special:  Anthony Carrigan (the actor that plays Dennis) reacted on my art on Instagram and Alex Winter (Bill) also reacted on  my art on Twitter (and retweeded it). As a kid, I would have NEVER imagined that BILL would someday react on my artwork. I fangirled. Hard. 
4. Homelander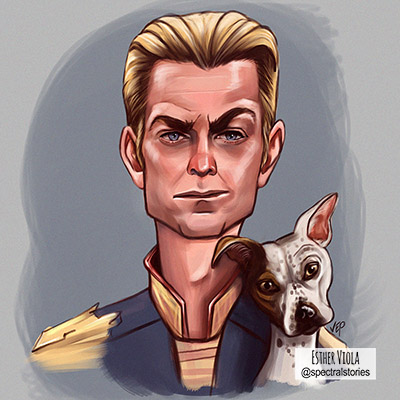 As I wrote before: I'm a big fan of The Boys. I made SO MUCH fanart for this tv series. And SO MUCH Homelander fan art. What I love about the The Boys actors, is that they often react on fan art and they share it with their followers. I love it when a tv show embraces fan art (and fan fiction).
Why did I pick this simple sketch, instead of the more elaborate works that I did? Because it's one of the few 'cartoon' style paintings I made. Ever. 
I like surrealism (especially surrealistic realism) and this painting was WAY out of my comfort zone. But it felt good to explore another style. 
5. Misha Collins as Tigger King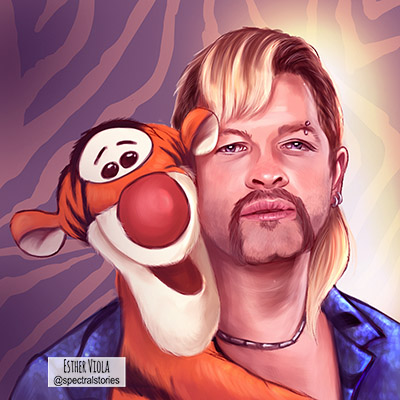 Where do I begin? In short: There is a week-long,  annual, international scavenger hunt that I participate in every year: GISH. For this scavenger hunt, you have to do all kinds of different creative, bizarre and kind challenges. This year, due to the pandemic, they also did a few shorter, mini-scavenger hunts to provide some safe fun while most of us had to stay inside. GISH is created by Misha Collins ( who also plays 'Castiel' on Supernatural). 
One of the Mini-Hunt items was 'Tigger King', and that's how my portrait of Misha Collins as Tigger King happened. Why it's one of my favorites? I guess because Misha Collins is one of my favorite people. His scavenger hunt is one of the reasons why I started drawing again in 2014 and without him, this page might have been empty.